João Batista

Brazilian Builder of Fine Mandolins, Cavaquinhos and Guitars

lives and works in São Paulo, the largest city in Brazil and one of the 3 largest cities in the world. His years of experience and dedication to his craft show in his work. He uses the finest materials including German spruce and maple, Indian ebony, and, of course, his native Brazilian rosewood. Wood bindings, intricate classical style rosettes, and gold plated Schaller tuners add to the beauty and playability of his instruments. Many of the top names in Brazilian acoustic music use his instruments and we are pleased to represent him here in the US.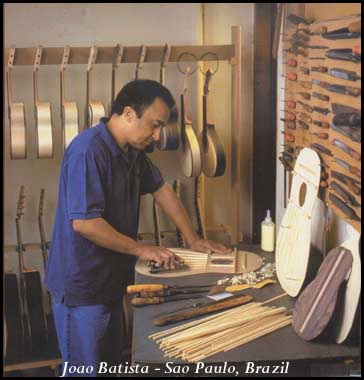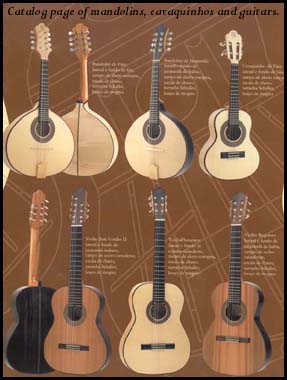 Mandolins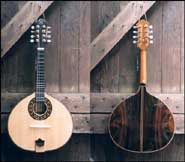 MANDOLINS are available in two models - the rosewood model and the maple model. Both models feature European spruce soundboards, ebony fretboards, mahogany necks, solid bone bridges, beautiful classic style rosettes, gold-plated Schaller tuning machines, and gold plated tailpieces. The necks are slim with a decidedly arched fingerboard radius that makes for easy playing. The tone is loud, clear, and very well balanced. Deluxe hardshell cases are included in the price. $1100.00 and up.
Cavaquinhos

CAVAQUINHOS are the main rhythm instruments used in Brazilian choro music and are also available in two models - basically the same as above in details except for flat fingerboards and classical style rosewood bridges. They are steel strung and are about the same size as the standard soprano ukelele. Deluxe hardshell cases are included in the price. $895.00 and up.
Click on these images to view larger ones!