Roo Mandolin Straps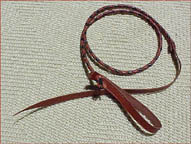 ... no metal parts ... no scratches !!!
These are beautifully braided straps handmade from kangaroo hide. Very soft, lightweight, and very durable.
These straps have a loop on one end (for the scroll) and flat surface on the other end for you to
punch a hole for the end pin.
Lenght is approximately 45 inches long. They come in a variety of colors, we can not honor requests for special colors!
Design - $52 plus $2 domestic shipping and $1.30 insurance (optional)
(California buyers pay sales taxes and international customers ... please inquire about exact shipping charges).
back to stocklist page